About Leaside Lock
Leaside Lock consists of four apartment blocks of studio, one-, two- and three-bedroom apartments, available to buy either outright or via the Government backed Shared Ownership scheme.
It will deliver over 965 new homes to the area over its 10-year plan, offering residents a range of amenities not usually seen outside of the Build to Rent or premium markets.
These include a roof terrace, cycle storage, concierge, residents' lounge, convenience store, nail and beauty salon, on-site workspaces, games room, health studio, café, and gym.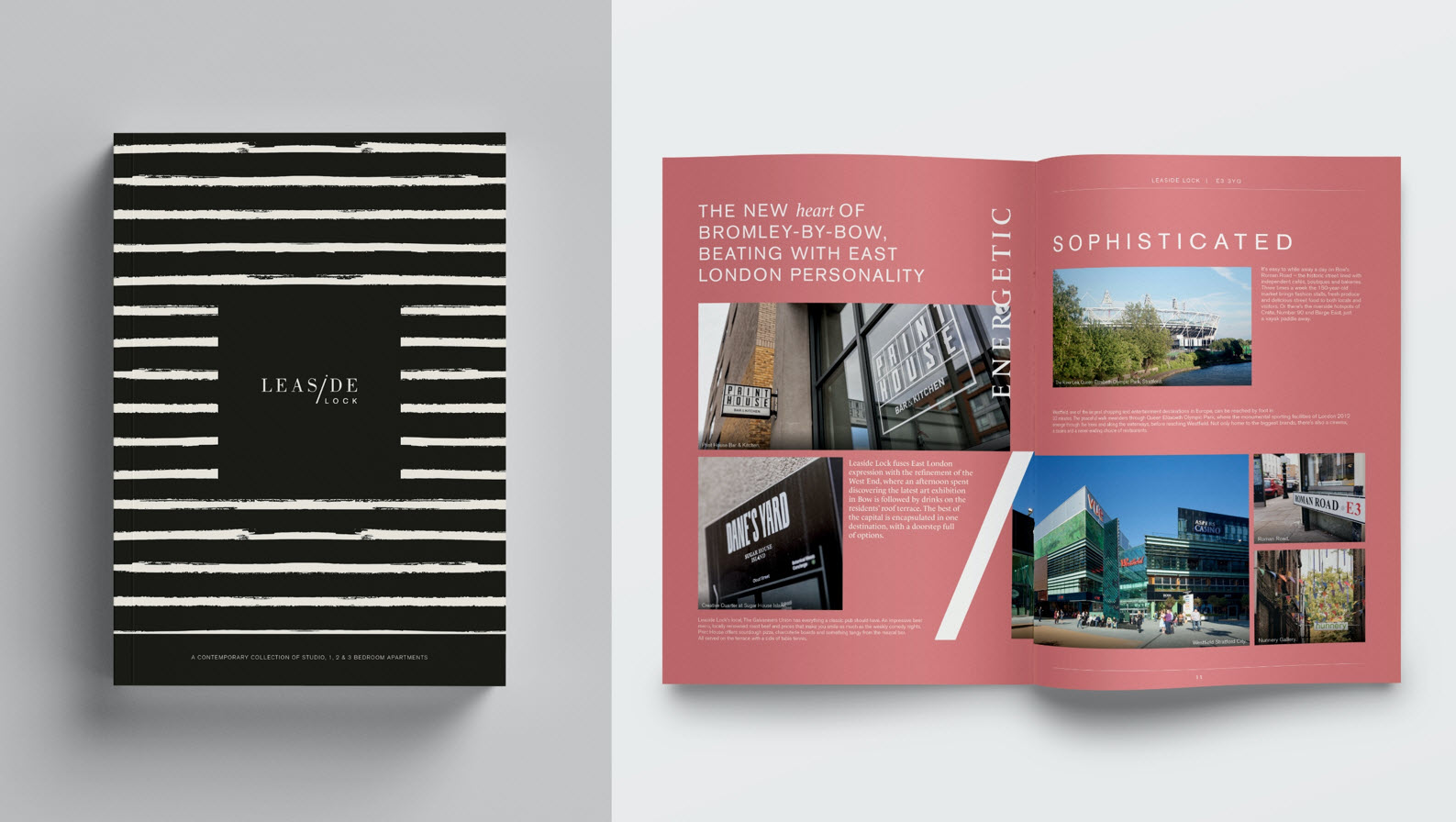 The brief
In Autumn 2021, Guinness Homes tasked Focus with exploring an integrated but digital-first media campaign, complete refresh of existing development branding, and identifying a new audience to help re-launch their Leaside Lock development in Bromley-By-Bow. Leaside Lock is a large regeneration scheme of land next to the River Lea, just a stone's throw from Bromley-By-Bow station. The goal was to make the development more appropriate to a dedicated target customer and deliver an aligned, placemaking, customer-first marketing approach that was measurable.
With an imminent relaunch date, the brief included a requirement to generate 300+ leads within an eight-week marketing window. The Creative, Media and Spaces teams worked collaboratively to bring a unique wealth of talent to the project.
The strategy
Using in-house planning tools and a market analysis system, the Creative and Media teams evaluated the profile of buyers to date, before reviewing the existing branding against this information. They researched the local housing market and socio-economic make-up of the area, scoping out other locations that could act as feeder markets. Four personas were outlined, two for the market sale properties and two for the homes available to buy via Shared Ownership. The investor market was also considered in the overall approach.
With a fixed re-launch date, the Spaces team decided to transform the existing space into a more vibrant and engaging sales environment, suited to the newly identified target audience. This would include a complete strip out and redesign of the double height sales space and marketing suite and the design and decoration of two show homes.
The Media team created a bespoke 'always on' strategy for Leaside Lock to establish an organic social media identity, boost visibility, build an engaged community, and generate love for the new development.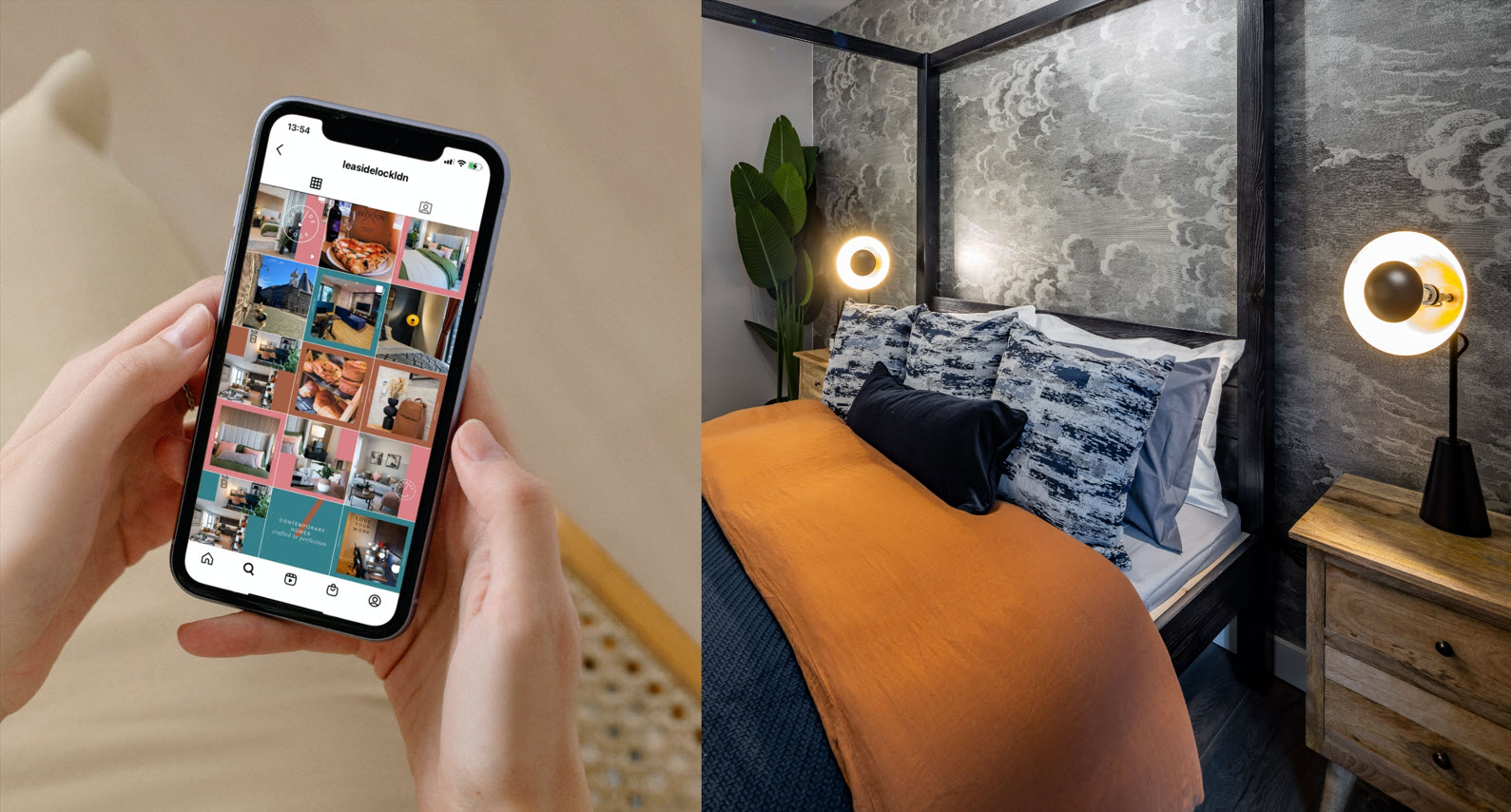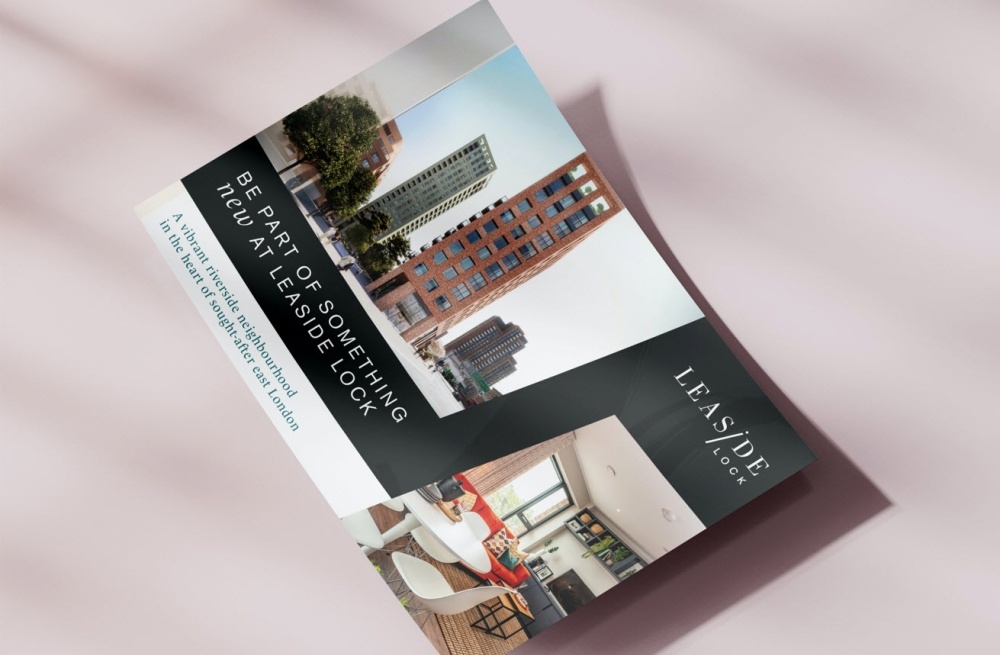 The tactics
With an emphasis on generating 300+ leads for the relaunch, the Media team deployed tactics that would deliver instant values. Paid search and Paid social were primary solutions, but programmatic display campaigns as well email marketing activities were run alongside these channels to drive traffic.
Ads ran in The Metro as well as a digital/print package for City AM that included sponsored articles and banners as well as 'standard' print ads in the property section.
For social, a sleek visual aesthetic was chosen, using templated assets to grab and maintain the attention of new followers. The Media team supported the overall strategy with media days to capture social-first content such as Instagram Reels.
Spaces worked to deliver the graphics and signage for the marketing environment and mock-amenity spaces including a digisuite™ available on tablets and a 75" screen to showcase the development.
The existing hoarding was replaced with new branding, host brochures, and house type inserts. Additional items were also designed, such as branded merchandise and business cards for sales staff.
Weekly client meetings made sure work stayed on track, with the digital strategy supported by a live reporting dashboard that Media implemented. This gave Focus and Guinness Homes an accurate view of engagement and response.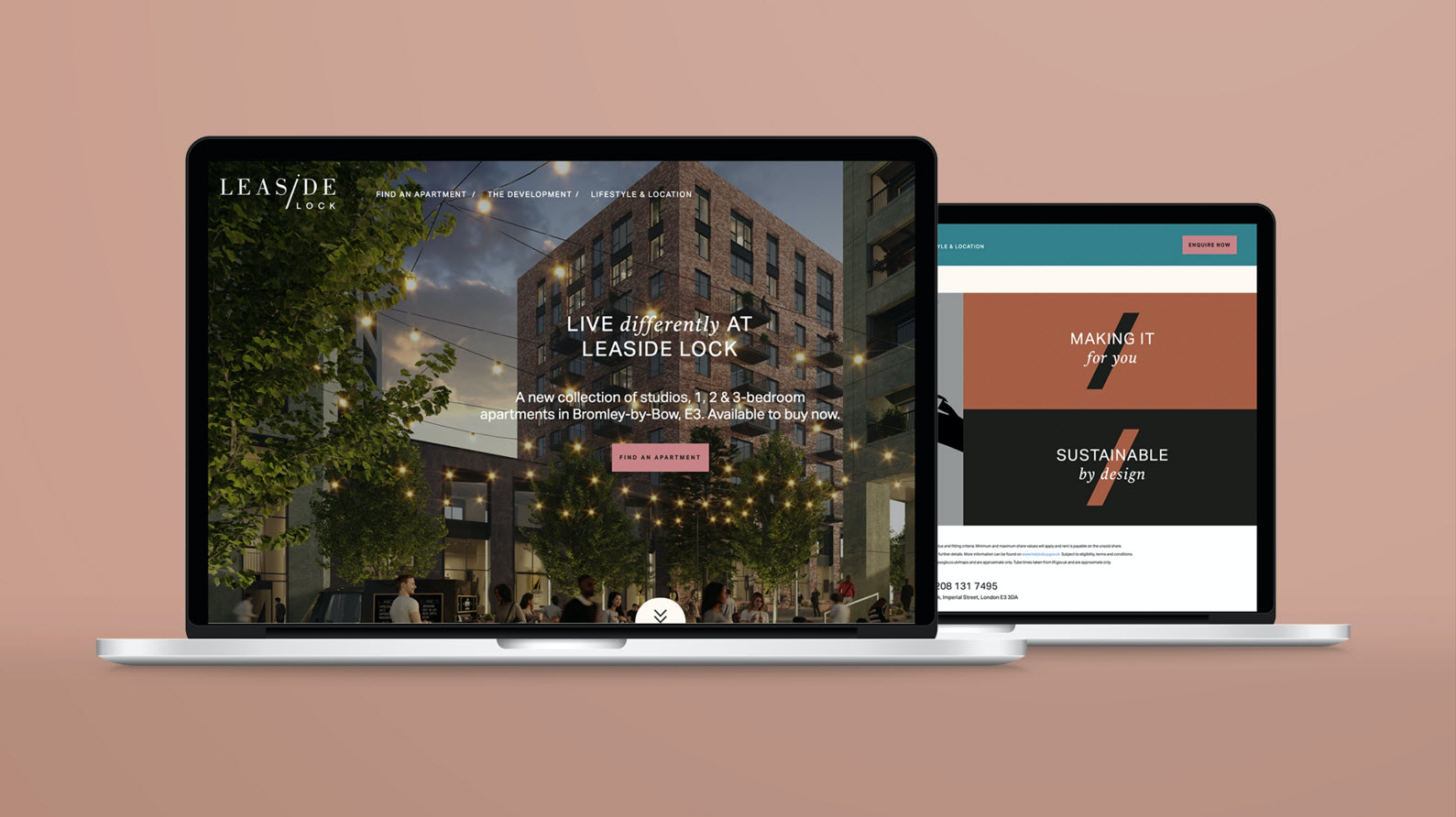 Given the proximity of the development to the station, a physical outdoor campaign took place. Leaside Lock branding was strategically positioned at the ticket-gates and on trackside posters, visible to those passing through/by the station.
Because Leaside Lock will eventually have a broader offering, Spaces extended works to the adjacent communal and resident spaces, including the lobby and entrance, and an amenity space with working drinks kitchen, two private offices, and a work from home hub. Customers now have a preview of the full Leaside Lock experience in a 'try before you buy' format.
Two show apartments, positioned on the 7th floor to take full advantage of the views of both the East (Stratford) and the West (The City) were developed, with interior design schemes born out of our target market profiling.
Both apartments have 'work from' spaces, to give the potential purchasers a vision of how their living space will allow for both lifestyle and career progression. This supports communal work hubs and residents' lounges on offer at the development.
A large balcony to the East facing home showcased outdoor living as a vital part of apartment life, with a seating area and planting set up on against a backdrop of the East London skyline.
The social team also bring the brand to life through authentic interactions with the community and prospective buyers, supporting the community's growth by working with local businesses and creator accounts.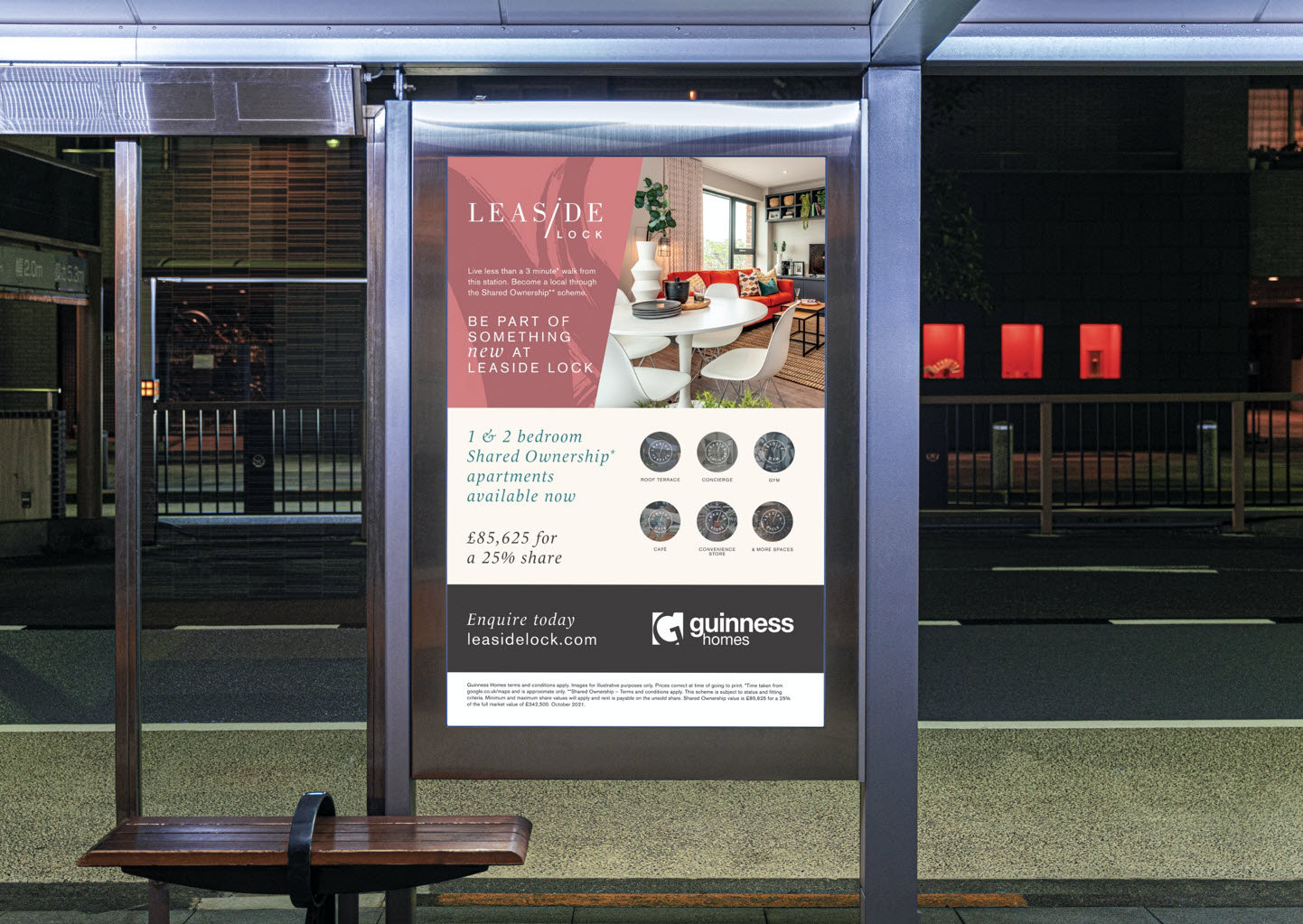 By the time of the launch Focus had delivered:
Over 5,800,000 ad impressions generated from the integrated media schedule of activities, in the 6 weeks leading up to launch
Over 350 brand new leads generated, with 143 leads generated from email campaigns to property portal databases
163 leads through the microsite and landing page over a four-week period with a conversion rate of 18.22%, compared to industry average of 5-8%
Digital media that delivered against the primary objectives of generating response with efficiency e.g., the Paid Search CPL that was 33% lower than our target CPL figure
Reservations within a month of launching, five of which took place during launch weekend
An immersive and interactive marketing environment
Two beautifully designed and styled show apartments, positioned on the 7th floor
A large communal work hub and residents' lounge, lobby and entranceways, an amenity space with working drinks kitchen, two private offices, and a work from home hub
Sales achieved on the launch weekend exceeded client's expectations with a total of 29