Date of completion
May 2021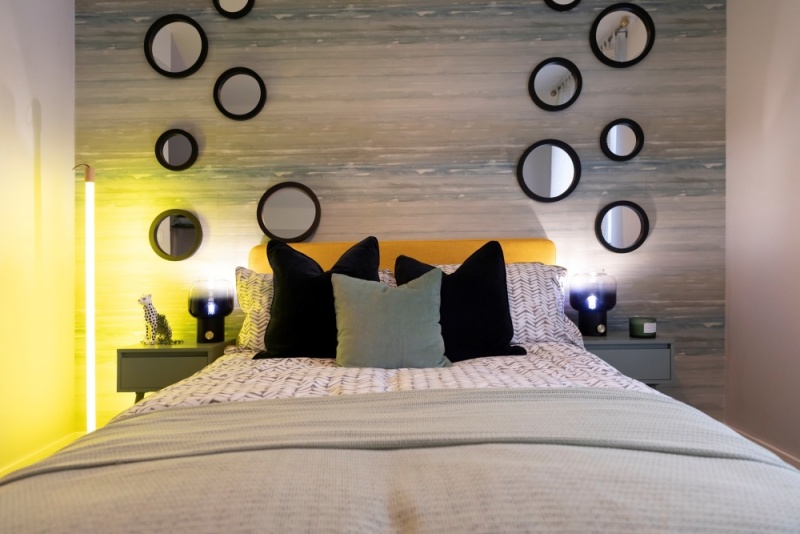 How we helped
Home X is a development by Optivo located in Brighton. Having potential younger buyers means the branding we had to work with was fun, techy and very eye-catching.
We wanted to reflect this within the interiors of both the 1 and 2 bedroom show apartments as well as bring in Brighton inspirations through the use of funky wallpapers and styling. Bold colours, materials and finishes gave both apartments a striking finish alongside the premium quality and specification from Optivo.
What was achieved
The 1 bedroom show apartment has been based on the dark style from the technology inspired creative. Using black for the ceiling throughout the space has made a big wow factor as potential buyers' step into the apartment. To make the space feel warm and inviting we used a deep peach colour for the walls within the kitchen/living/dining area.
Stunning voiles with a touch of green tint dressed the windows while still making the space look airy and light. To make the most out of the open space we designed the kitchen/living/dining area to include a working from home zone.
The 2 bedroom show apartment has been designed with a lighter colour palette, taking its inspiration from the brighter shades within the creative. Use of lighter peach, green and grey colours for the walls opened up the interior while gently injecting the colour within, making a great canvas to add funky furniture and wallpapers too.
An opulent yellow velvet sofa made a great statement within the lounge area. We absolutely loved the coffee table with speckled black and white effect texture and colour of which we also wanted to bring through the cushions helping the space tie together successfully.
What the client had to say
"Right from the off, we knew we were in safe hands when we saw Focus' proposal. Not only did it look incredible, capturing everything Home X stands for, but their understanding of how each space should work was unrivaled" – Rich Login, Director of Sales & Marketing of Optivo