Client
Notting Hill Genesis
Date of completion
December 2022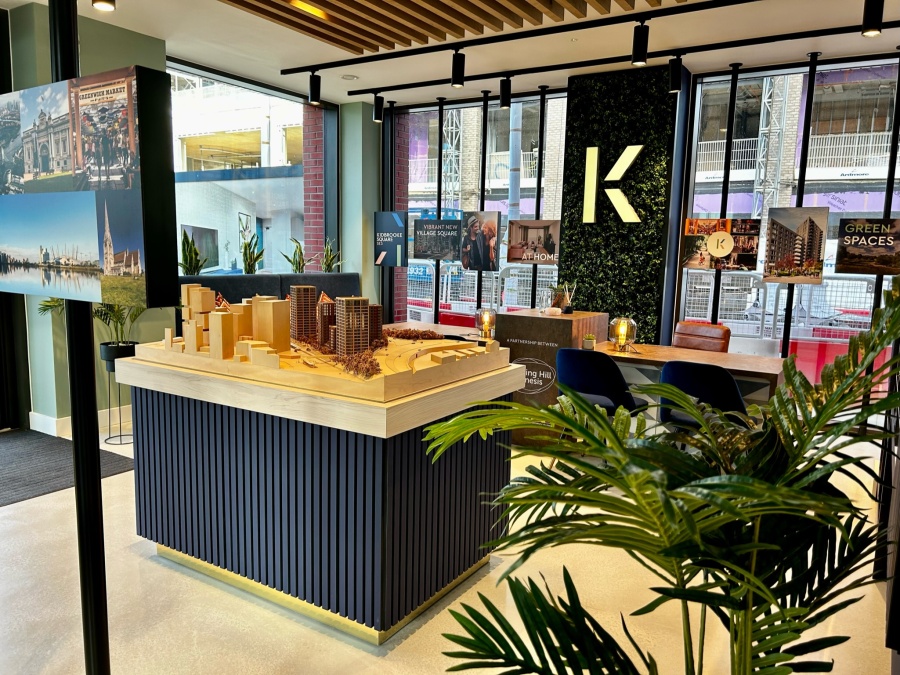 How we helped
Notting Hill Genesis approached us with an opportunity to design and style the marketing suite for their Kidbrooke Square development, located in the Royal Borough of Greenwich. Our goal was to create a space that would appeal to young professionals or first-time buyers by using a modern, trendy design.
It was important to create a smooth customer journey, where potential buyers could learn about the benefits of the area before making their final decision. We drew inspiration from the surrounding community, known for its excellent connectivity and abundance of opportunities.
We focused on highlighting these aspects in the design of the marketing suite. We wanted to ensure that potential customers could easily imagine themselves living at Kidbrooke Square.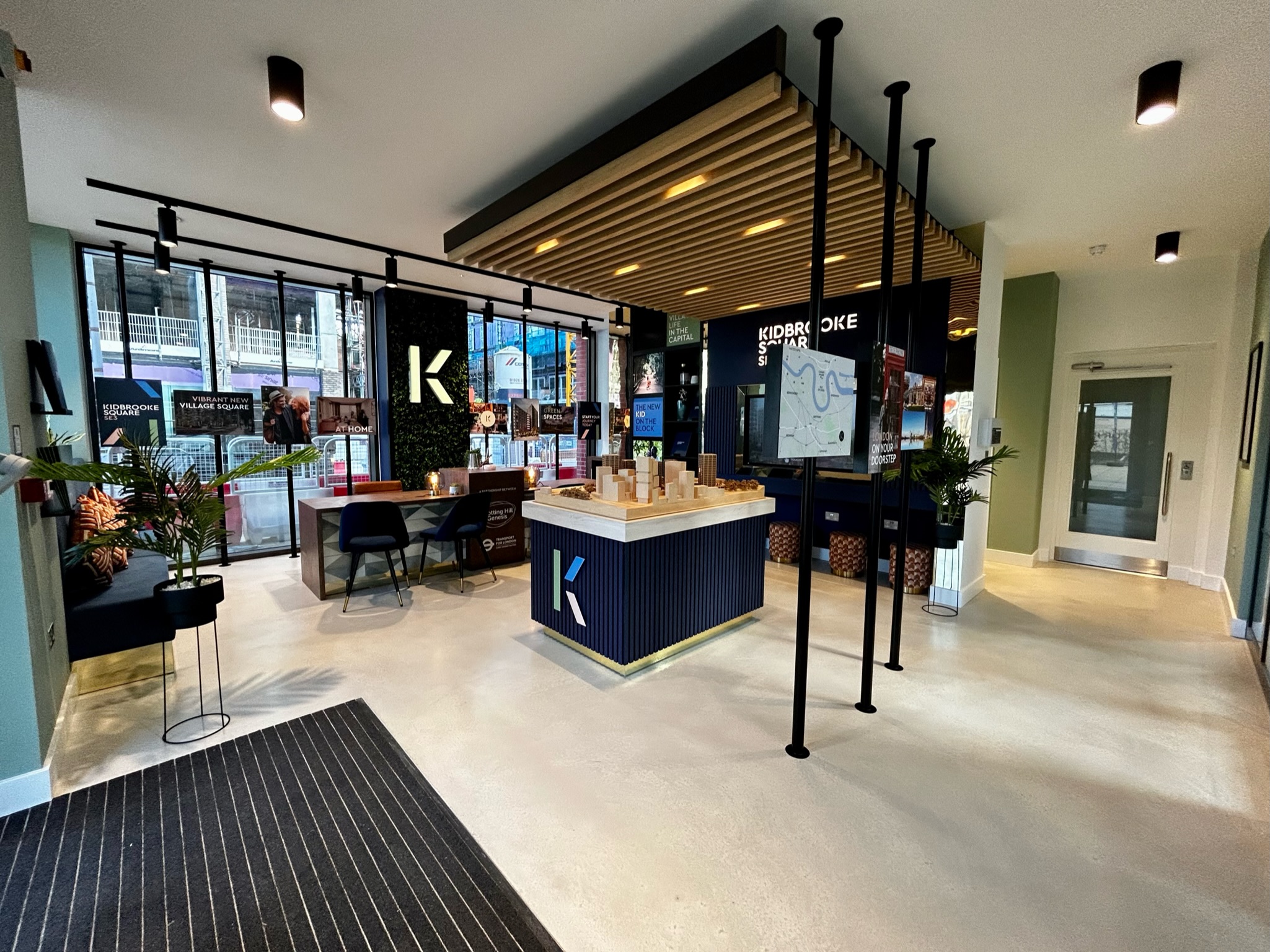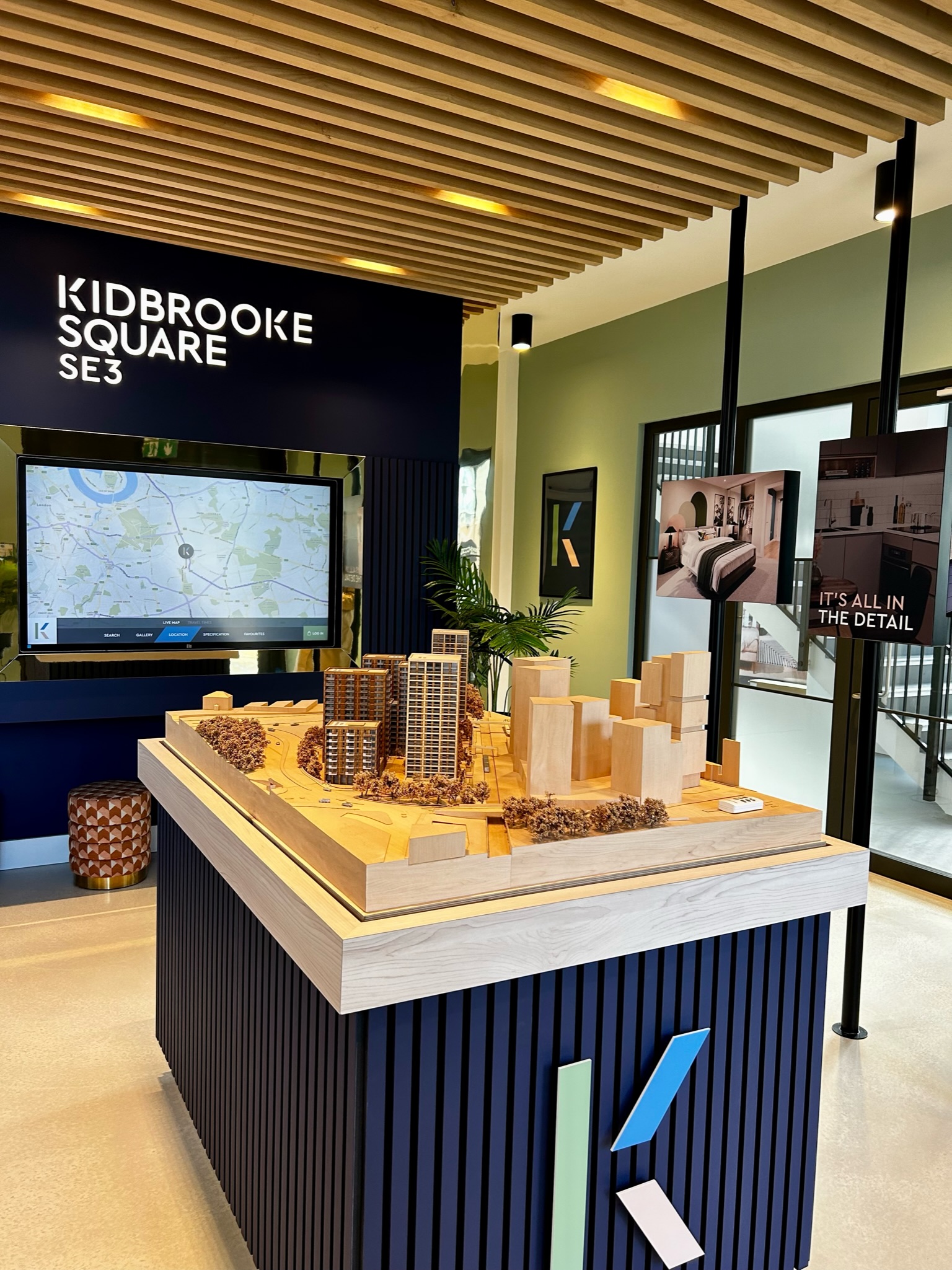 What was achieved
Designing an impactful discovery space, we showcased the development's opportunities to visitors as soon as they entered the space. The space featured a model and recessed TV screen to encourage potential buyers to explore and learn more about the site. To ensure the screen became a focal point, we used wood slats to create texture and designed a feature wall with shelving and graphics.
Tying the desk into the overall scheme of the space, we custom designed a sales desk unit with corten steel texture, tiled front and brass plinth detail. We commissioned a bespoke illuminated logo sign and mounted it into the wall, adding a touch of elegance behind the desk.
With limited space available for graphics, we designed double-sided industrial graphics boards, which not only provided further context to the site, but also allowed the boards to be viewed externally, letting light flow through the space. Other features included a bespoke banquette seat, pouffe seats and graphic board dividers, all custom-made to suit the design aesthetic of the space.
We designed a comfortable and stylish meeting room with modern table, chairs and light feature. We sourced a modern carpet, in keeping with the area, which tied the entire design together.