Date of completion
October 2022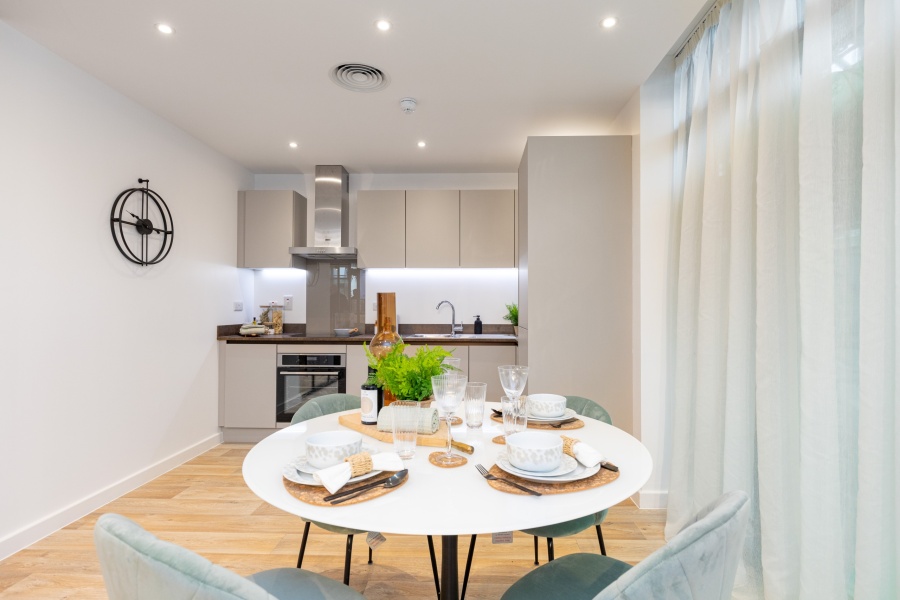 How we helped
Our team was tasked with creating an engaging marketing suite that would capture the essence of the brand, the local area and the community, all while resonating with the target demographic.
To achieve this goal, we decided to divide the commercial unit into distinct areas that would cater to various customer needs, including discovery zones, functional sales spaces, a relaxing lounge and a meeting room.
As a show apartment was not immediately available, we showcased the high-quality specification on offer through a dynamic and visually pleasing marketing suite that would effectively showcase the unique features and charm of the apartments once complete.
What was achieved
We took a thoughtful approach to zoning the space, with emphasis placed on creating discovery and lounge areas that would be meaningful and impactful for our targeted demographic on first impression.
To enhance customer experience, we included a mock kitchen and bathroom space that was meticulously dressed to showcase the quality and specification of offerings.
We designed and manufactured a series of statement joinery pieces that were carefully selected for their texture and tactile feel. Antique mirrors and strategic lighting were used throughout to evoke a sense of style and luxury that would appeal to an affluent buyer.
To bring a touch of the outdoors in, we created pockets of greenery by using hanging planters throughout the space, a nod to the local greenery.
Brick feature walls, bespoke upholstery and graphic applications were used to bring the brand to life, creating an aspirational space.
At the end of the project, we had successfully created a visually pleasing and immersive marketing suite that highlighted the unique qualities of the apartments.