Development
Gallions Point
Location
The Royal Docks, London
Date of completion
January 2020
How we helped
We began working with Telford 9 months out from the proposed launch dates for the sales and marketing suite with a commercial unit highlighted for its location. As with most projects, requirements changed with the occupation of a supermarket now taking the originally intended space.
However, as we worked so closely aligned with the Telford on-site construction team, we revised our proposals into a different unit which was going to be the Bike store – lots of imagination was needed from the outset!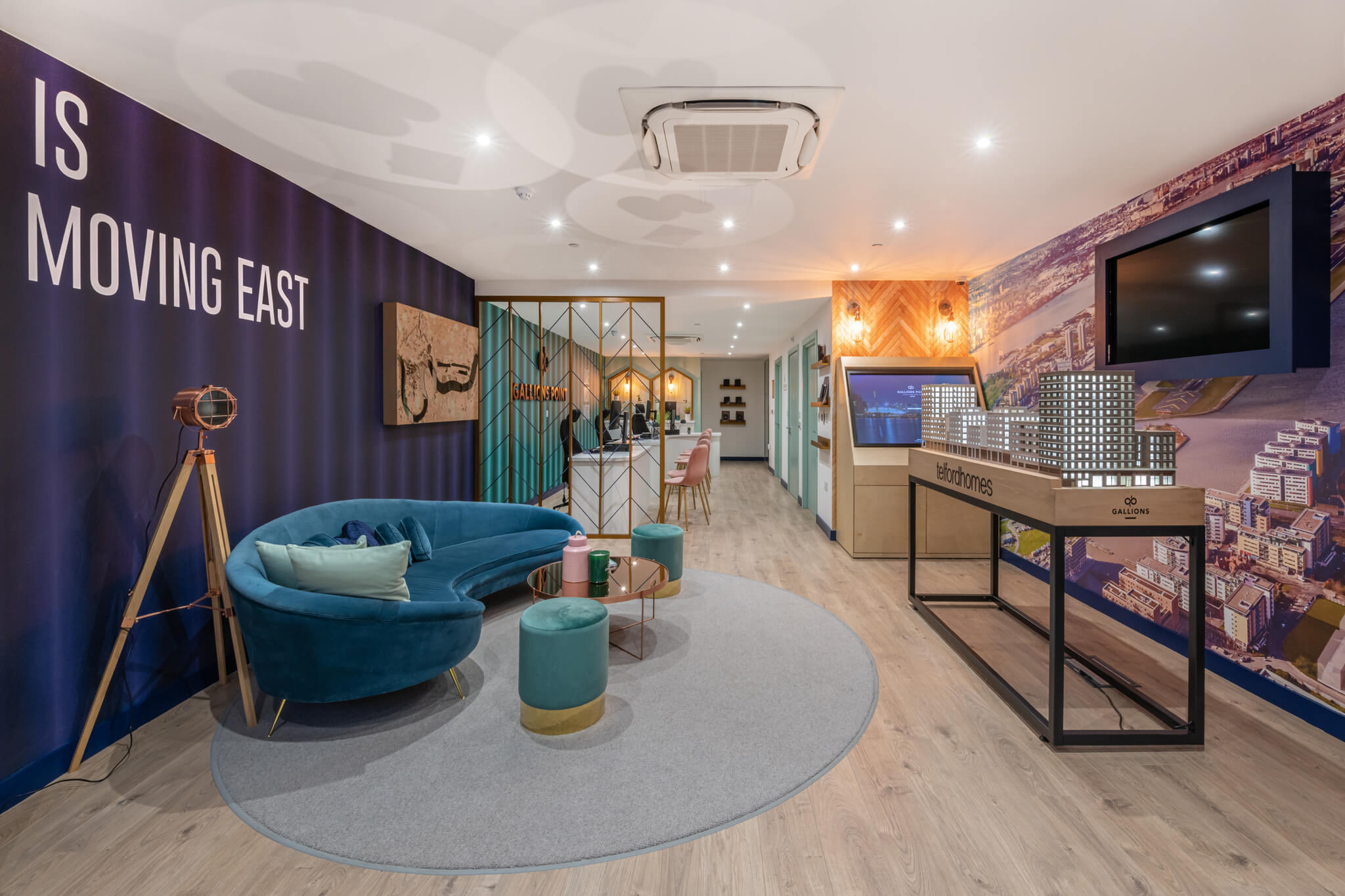 What was achieved
Taking on a strong brand that was more targeted to an investor and international market, our first task was to soften the brand and give ourselves softer colours, tone, materials and finishes to be more customer-friendly.
Shades of pink, teal, green and blues alongside the injection of a brass outline detail gave us a springboard to create a welcoming, friendly and non-imposing space for potential purchasers to visit and feel comfortable in.
Existing technology was designed into the new design and fit-out, we worked with the technology and model partners of Telford to ensure they weren't just bought in and placed without any prior thought or consideration.
The result is a great space, on the DLR station entrance that gives potential customers an insight into both the apartment quality they are buying and the lifestyle the area and development can offer them. We have since been asked to design two further communal spaces that complement the design style of the suite for the development.
What the client had to say
"From the outset, Focus' design and in-depth knowledge appealed to us. Their understanding of who would be visiting the suite and how to appeal to them was unparalleled and meant a change of colour scheme that would resonate with our domestic customers. Even with a change of venue, Focus were able to adapt their design and delivery, and yet were still able to present us with an incredible marketing suite. We were so impressed by Focus that we're now working alongside them to create a Gallions Point residents' lounge." – Kerry Hill, Head of Marketing & Communications