How we helped
Firstsite wanted their website to be creative and exciting, inspiring users to visit their exhibitions, buy tickets for events, host events there and contribute in a new online space where users can upload their own content.
It was very important to Firstsite that their new website was easy to navigate and accessible for all users, whilst portraying Firstsite as an inspiring gallery and a leading creative voice.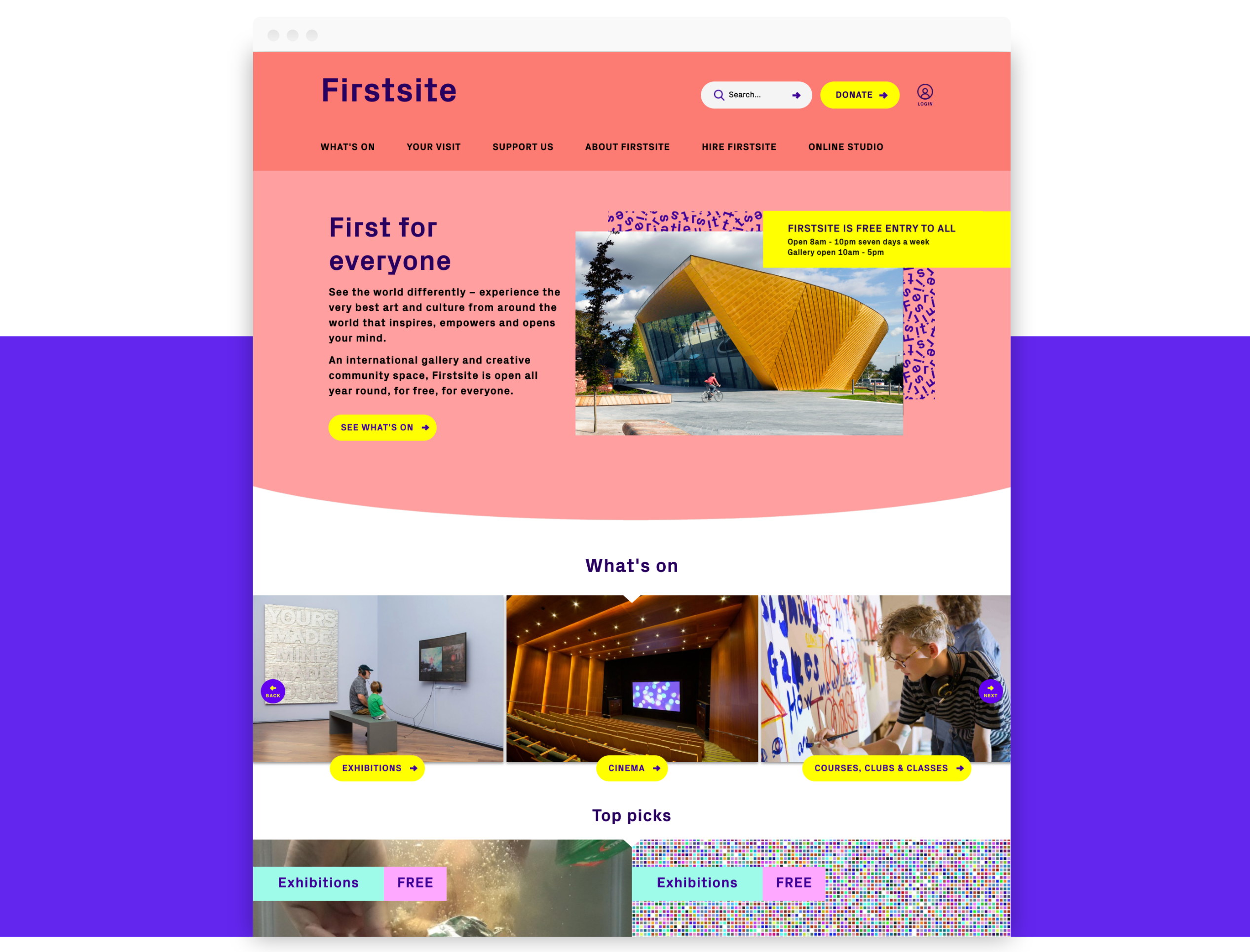 What was achieved
The digital team at Focus ran a discovery day with the team at Firstsite to get a full understanding of the website's scope. Surveys were also sent by Firstsite to local artists to gain an insight into what they would like to see from the site.
From this session and the survey results, our User Experience team produced the key user journeys, site map and wireframe templates which were used as a base for the Focus Creative team to produce their designs, as well as a full functionality document outlining how the website would work.
Our Creative team then got to work designing the new website.
Each section of the site was designed to have its own colour theme to take users on a journey through the site.
The subtle curves throughout the design were inspired by the shape of the award-winning building designed by Uruguayan architect Rafael Viñoly.
The Focus development team built the bespoke website in WordPress, providing the team at Firstsite with an easy to use CMS allowing them to manage it.
The Online Studio has been built to allow users to upload their own images, audio files, GIFs, Word documents, PDFs and videos to share with this new online community. Users are able to like, comment and share the posts. Since go-live a new online shop has also been added to the website, creating an e-commerce platform for Firstsite.
The new website has helped to build a new community, generate more engagement and bring Firstsite to life online.
What the client had to say…
"We wanted a site which reflected our creativity, the fact we were an art gallery and the stunning architecture of our building. we also needed it to communicate the many different aspects of our programme in a simple way, to our many different audiences. This included the design of a What's on area, which collates the information of over 70 events which happen in the building each month, into an easy to navigate and easy to understand format.We really feel this has been achieved and we have received so much positive feedback from the Firstsite team and our visitors.
"We have seen a huge improvement in engagement which has exceeded all objectives, we have also seen huge increases in enquiries for our venue hire and our footfall to the building increased as a result of the improved functionality of the site which allows us to promote our exhibitions and events more effectively.
"Due to lockdown, our online-only visitors have also grown substantially and the site has allowed us to cater for this, providing online visitors with a way to experience our exhibitions and express their creativity wherever they are.
"Focus are a great team, very professional, and offer sound advice, they provide great support and have helped us navigate the new many challenges of lockdown, building in new ways for us to easily communicate our opening status, provide quality and interactive online content and encourage donations.
"They are a great company to work with and I thoroughly recommend them." – Rachel Skillen, Head of Audience and Communications, Firstsite